Image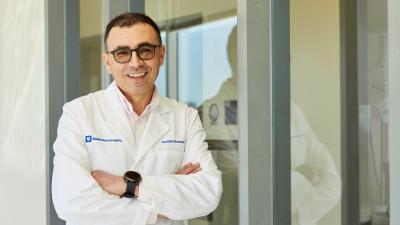 Thinking Outside the Box to Find Better Treatments
Brain cancer affects millions of people worldwide, and while there have been significant advances in the field of oncology over the years, this complex disease remains an ongoing challenge. Despite this, doctors and researchers are continuously learning more about brain cancer and discovering new ways to possibly combat it, bringing us closer to finding a cure and providing patients with a better quality of life.
Keep reading to learn about how our medical oncologist, Mustafa Khasraw, MD, is thinking outside the box to find new ways to treat brain cancer and why The Preston Robert Tisch Brain Tumor Center is the best brain cancer treatment center in the world. Join us as we dive into the latest research and advancements in the fight against brain cancer. 
Brain Cancer Treatment Research 
Mustafa Khasraw's research is fueled by the emotional connection that he feels with his patients, especially those with incurable brain cancers. Dr. Kharsraw is looking for new ways to treat brain cancer, including using old drugs in new and innovative ways of combining medicines and treatments to get more powerful results. 
Khasraw thinks outside the box regarding new treatments and how they are evaluated in clinical trials. In particular, he's interested in studying what goes on between the study drug and the tumor in the human body. Asking questions like, did the drug reach the cancer? Did the drug have an effect? If so, was it the intended effect? 
Instead of performing more trials to study drugs and see if they help patients live longer, Khrasraw is more interested in conducting smaller studies to see if the biology of the tumor changes as a result of the treatment. Participants in these studies are patients who are already scheduled for surgery to have a brain tumor biopsied or removed. 
Before surgery, the participants take a study drug. After removing the tumor, Khasraw and his colleagues begin to investigate the tumor to see whether the drug was present in it and, if so, what biological activity occurred. 
Khasraw also conducts research to investigate other ways of harnessing the immune system to fight brain cancer. In this case, the therapeutic agents are proteins that bring cancer-killing immune cells directly to the tumor, which the immune cells haven't been able to find on their own. The agents being studied are bispecific antibodies, which simultaneously bind to targets on cancer cells and immune cells.
Khasraw doesn't pin his hopes on any particular treatment, targeted therapy, or clinical trial, saying he is interested in the data and will keep an open mind but also a skeptical mind. Eventually, with these projects or others, Khasraw hopes to be able to make a difference for patients with brain cancer and their families. "It's a huge area of need," he says. "And whenever there is a huge need, there is also a bigger opportunity to make a difference."
Duke Brain Tumor Treatment Center
Duke was one of the first brain tumor research and clinical programs in the United States and sees the most adult brain tumor patients and pediatric brain tumor patients each year. Apart from providing the common forms of treatment options, you can also find FDA-approved brain cancer clinical trials that are exclusively available at Duke, as well as pediatric clinical trials. 
No other hospital or center can offer these FDA-approved treatments to patients, allowing Duke to provide more advanced and cutting-edge treatment plans for patients compared to other clinics. Head on over to this blog to learn more about why Duke is the best clinic for brain tumor treatment. 
What Is the Best Treatment for Brain Cancer? 
The best treatment for brain cancer depends heavily on each patient's specific prognosis, situation, and overall health. 
Is There a Treatment for Brain Cancer? 
Yes, there are various treatment options available for patients facing a brain cancer diagnosis. 
What Are Some Treatments for Brain Cancer? 
A few common treatment options for patients with newly diagnosed brain cancer are surgery, chemotherapy, radiation therapy, stereotactic radiosurgery, and targeted drug therapy. To learn more, visit our blog, Everything You Need To Know About Brain Cancer. 
The Best Brain Cancer Treatment Options 
The Robert Preston Tisch Brain Tumor Center specializes in treating brain tumors, conducting research, and providing unparalleled supportive patient care. We look after our patients and strive to empower anyone facing a brain tumor diagnosis.
 Our center has some of the best radiation oncologists, neuropathologists, neurosurgeons, neuropsychologists, and neuro-oncologists to ensure patients are provided with the right care and support to match their diagnosis. To book an appointment with one of our leading doctors or for any questions about our services, visit our center located in Durham, NC, or give us a call at 919-684-5301.