For 85 years, we've been a destination for patients seeking the most advanced treatments. Our patients are the reason we strive to deliver hope every day and in the years to come.
1937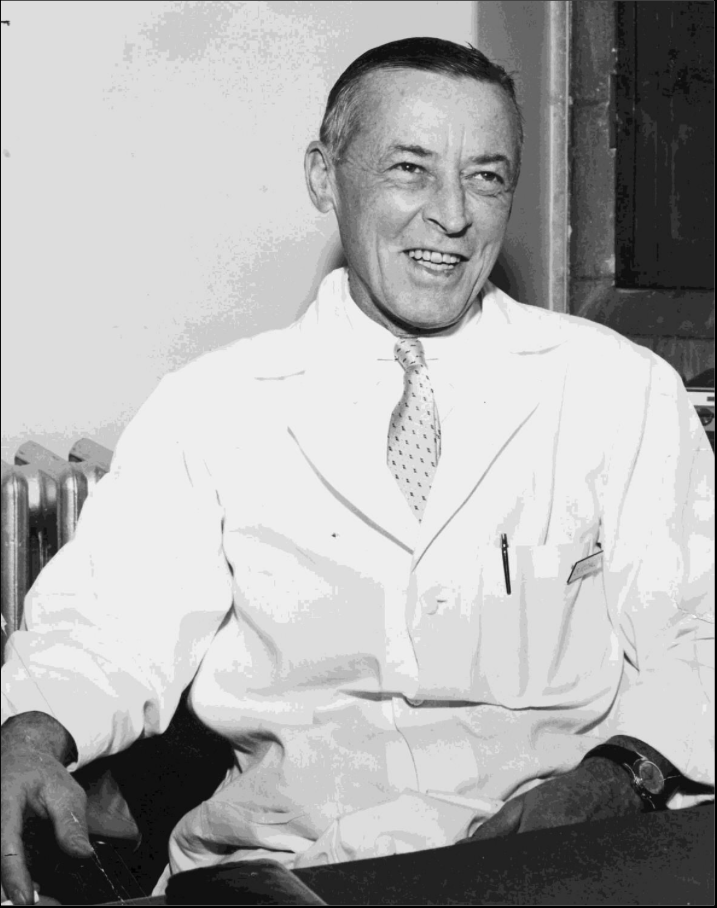 The history of neuro-oncology at Duke spans the entire history of the institution, beginning with the arrival of Barnes Woodhall, MD, from Johns Hopkins University in 1937.  Upon his return from World War II, Dr. Woodhall was one of the first physicians to use chemotherapy for cancer of any type in the early 1950s.    
Serving as chief of neurosurgery and later as second dean and chancellor of the Duke University School of Medicine, Dr. Woodhall was a major force in the development of the Duke Comprehensive Cancer Center and Duke's Neuro-Oncology Program and played a large role in the construction of the Cancer Center Isolation Facility.
1943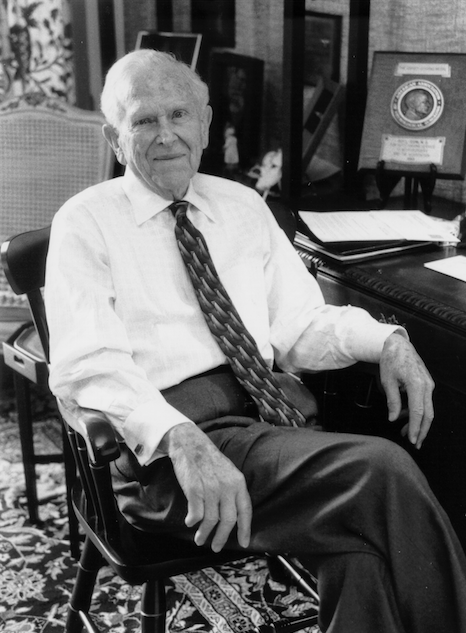 Guy Odom, MD, arrived at Duke in 1943. Dr. Odom held a James B. Duke Professorship of Neurosurgery and established the first neuropathology tumor laboratory, as well as the brain tumor clinic, which is one of the oldest multidisciplinary clinics for cancer at Duke.
Dr. Odom and Dr. Woodhall were founding members of the National Cancer Institute's National Brain Tumor Study Group and provided crucial leadership in forming Duke's Neuro-Oncology Program.
1963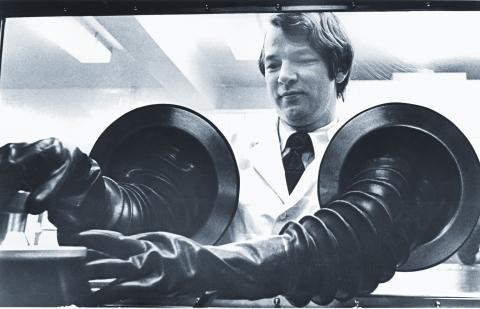 Darell Bigner, MD, Ph.D., arrives at Duke as a medical student. He has been at Duke for 59 years, except for two years at the National Institutes of Health and a year as a postdoctoral fellow in Germany.
1964
A journal article reports more than 300 cases of intracranial metastases and their neurosurgical treatment at Duke from 1938 to 1962.
Half of these patients receive neurosurgical treatment; about one-fifth of them live at least a year, and 5 percent live 10 years, proving that surgery on single lesions has a significant effect. 
Early 1970s
Steve Mahaley, MD, Ph.D., a second-generation investigator at The Brain Tumor Center, is one of the first researchers to study immunological characteristics of human gliomas; he also explores the relationships between chemotherapy and immunology of brain tumors.
North Carolina sees a remarkable rise in the practice of neurosurgery. In 1937, Woodhall was the only neurosurgeon in North Carolina; by 1971, there were 32.
The Duke Comprehensive Cancer Center is formed. Bigner and Mahaley are listed as "key investigators."
1974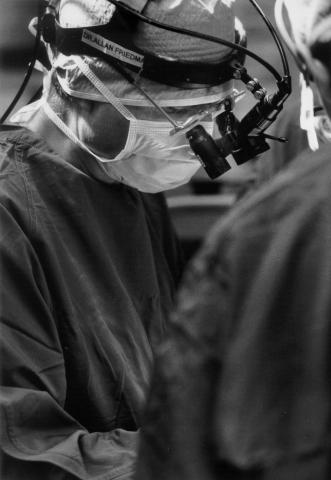 Allan Friedman, MD, joins Duke. He serves as chief of the Division of Neurosurgery and holds the Guy L. Odom Professorship of Neurosurgery, established in 2001 by the former neurosurgery trainees of Woodhall and Odom.
1975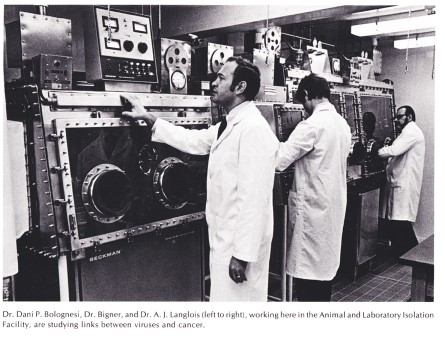 Bigner, with Woodhall's support, designs and obtains a construction grant for the Cancer Center Isolation Facility, which allows investigators to work in isolated laboratories when doing research that requires biosafety II, III, and IV containment.
1981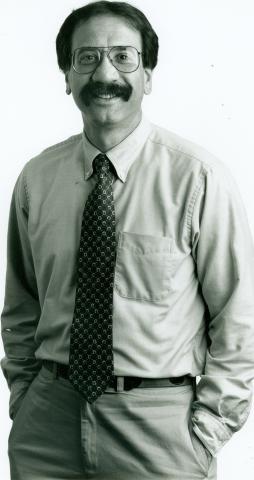 Henry Friedman, MD, joins Duke as a senior research fellow in pediatric hematology-oncology.
He is now a Deputy Director of The Preston Robert Tisch Brain Tumor Center and holds the James B. Powell Jr. Professorship of Neuro-Oncology.
1982
Bigner, Friedman, and S. Clifford Schold Jr., MD, find a way to implant human brain tumor cells in mice genetically engineered to have inhibited immune systems. They aim to treat human brain tumors in mice with different drugs to find one suitable for each patient, thus sparing patients from ineffective medications, stress, and adverse side effects.
1983
Roger McLendon, MD, comes to Duke as a resident. He went on to be the chief of Neuropathology and Surgical Pathology; director Anatomic Pathology Services; and director of The Brain Tumor Center Tissue Bank.
1984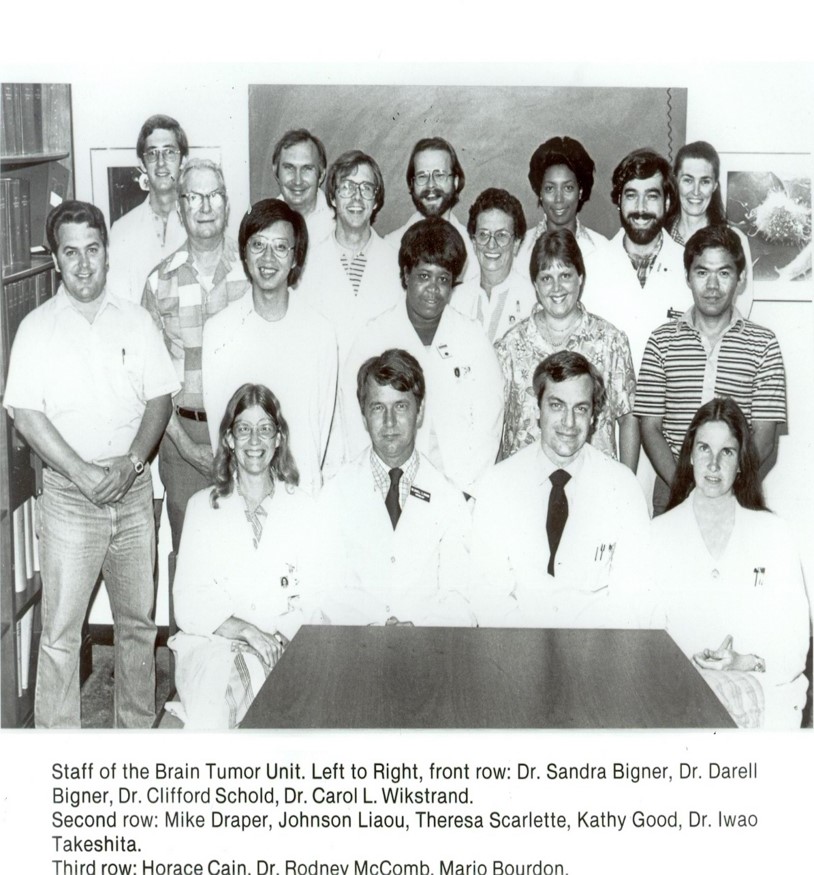 With the core team of investigators in place, the Center became the first in the nation to be designated by the National Institute of Neurological Disorders and Stroke as a Specialized Research Center on Primary Tumors of the Central Nervous System, with Dr. Darell Bigner as principal investigator.
The second generation of neuro-oncology investigators included Stephen Mahaley, MD, Ph.D.; Darell Bigner, MD, Ph.D.; Allan Friedman, MD; Henry Friedman, MD; S. Clifford Schold, Jr., MD; and Sandra Bigner, MD.
Herbert Fuchs, MD, Ph.D., arrives at Duke as a medical student. He serves as Division Chief, Pediatric Neurosurgery.
1991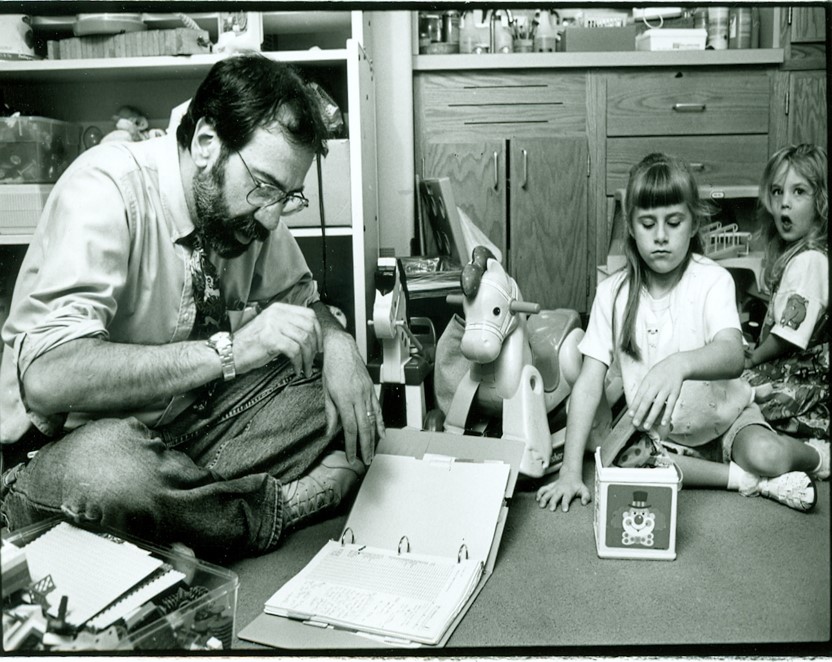 Pediatric neuro-oncology, led by Dr. Henry Friedman, became a recognized program within the Division of Pediatric Hematology/Oncology at Duke University Medical Center. 
With continued growth in patient accrual, the program officially became the Duke Division of Pediatric Neuro-Oncology, with Dr. Henry Friedman serving as chief.
1992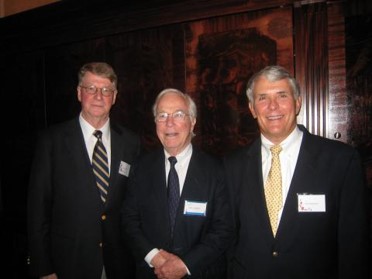 The Duke Brain Tumor Program Board of Advisors is established.  With their help, 26 endowments, 9 professorships, and 66 research funds have been established, and countless other gifts have been donated to the BTC.
1994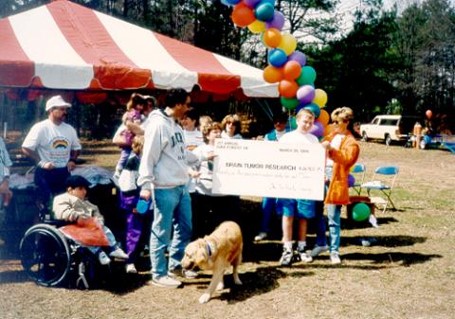 The Duke Forest 5K (now Angels Among Us) is organized by Cary and Kate Harrison, Terry Rose, and other volunteers to raise funds for brain tumor research. The first event raises $27,000 for brain cancer research at Duke.
1996
A vaccine developed by Duke Comprehensive Cancer Center researchers shows promise in mice by treating brain tumors that had been thought "off limits" for the immune system. 
Drug studies begun in baker's yeast cells give rise to a new therapy for brain tumors at Duke Comprehensive Cancer Center, hoping to turn promising laboratory findings into an effective new drug. 
Hopebuilders 5K fundraising run is organized by William and Gigi Harris, Marc and Mattye Silverman. Their efforts established the Margaret Harris and David Silverman Professorship of Neuro-oncology Research, recently held by Francis Ali-Osman, DSc.
1997
The pediatric and adult neuro-oncology clinical services merged into a multi-departmental joint program known as the Brain Tumor Center at Duke.
Duke cancer and biochemistry specialists find that glioblastoma multiforme tumors that had become resistant to chemotherapeutic agents showed defects in the cellular mismatch repair system, a key factor in quelling cancer cells. 
Jim and Mary Helen Dalton, members of the Duke Comprehensive Cancer Center's Board of Overseers, pledge $1.25 million to support brain tumor research. 
A gift from the Tim & Tom Gullikson Foundation ensures the continued development of the family support program and services.
1998
In initial clinical trials, Duke researchers Bigner and Zalutsky significantly extend the survival of patients suffering from the most malignant brain cancers by injecting antibodies directly into the cancerous region. The antibodies carry cancer-killing radioactive iodine-131 to the tumor cells.
2000
Jimmy Matthews, a member of the Duke Brain Tumor Program Board of Advisors, establishes the Joyce Carroll Matthews Brain Tumor Research Endowment Fund in memory of his mother and donates over $1 million for brain tumor research at Duke.
In the first study, Duke researchers used standardized methods to identify neurologic and psychiatric problems in adult brain tumor patients shortly after diagnosis, exploring specific issues affecting patients' quality of life.
2001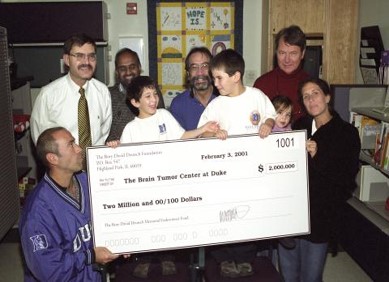 The Rory David Deutsch Foundation establishes the Rory David Deutsch Memorial Brain Tumor Research Endowment Fund for pediatric brain tumor research with a pledge of $2 million.
Accelerate Brain Cancer Cure is founded by the Case family in memory of Dan Case. The family pledges $5 million to center. 
In an early-phase clinical trial, patients with cancerous brain tumors become the first to be treated with an intriguing new class of drugs called "immunotoxins" – part tumor-recognizing protein, part bacterial toxin. 
The Guy L Odom Professorship of Neurosurgery is established and is currently held by Allan Friedman.
2002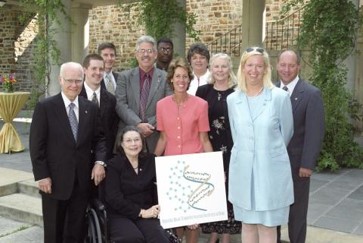 A $6 million award from the Pediatric Brain Tumor Foundation established the Pediatric Brain Tumor Foundation Institute at Duke, devoted exclusively to pediatric brain tumor research. A second gift of $6 million is awarded in 2008.
The Jonathan Spicehandler Invitational Golf Tournament is organized and leads to the establishment of the Jonathan Spicehandler, MD, Professorship of Neuro-Oncology Research, currently held by Zalutsky. 
Oscar Ellis and Anne Colville donate $1 million and establish the Oscar W. Ellis and Anne Colville Brain Tumor Research Fund. 
Park B. Smith establishes the Carol R. Smith Faculty Research Endowment Fund with a gift of $1 million.
2002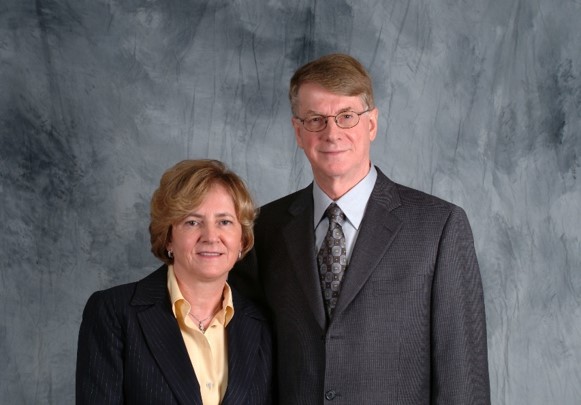 Ruth and Gerhard Cless established the Bryan Cless Brain Tumor Research Fund and donated over $6 million to support brain tumor research at Duke. The Cless family has donated over $16 million for brain tumor research at Duke.
A 40-minute profile of patients and doctors of The Brain Tumor Center airs nationally on the CBS program 60 Minutes. 
The National Cancer Institute awards the Center a brain cancer SPORE (Specialized Programs of Research Excellence) planning grant with Bigner as principal investigator. 
2003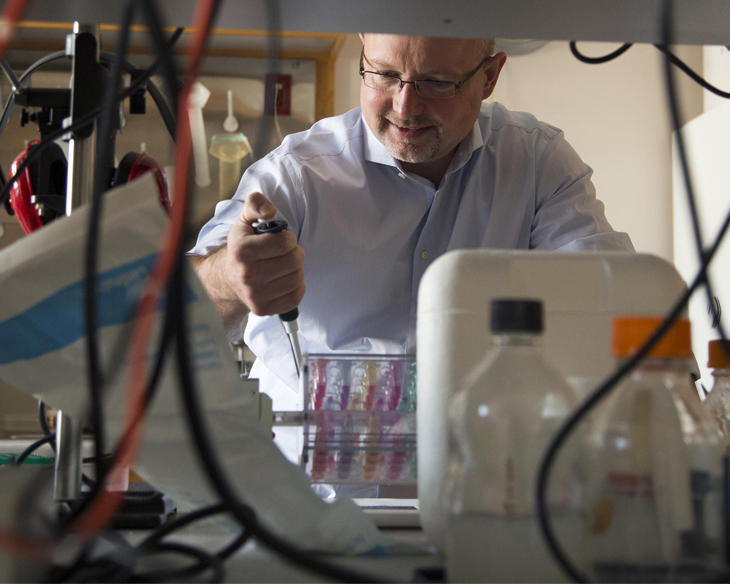 In a daring yet successful experiment, Matthias Gromeier, MD, and his team combine the cancer-killing properties of poliovirus with a harmless genetic coding element from the common cold.
The modified virus creates a potent anti-cancer agent, rapidly killing cancer cells in laboratory cell cultures and animals without causing polio.
2004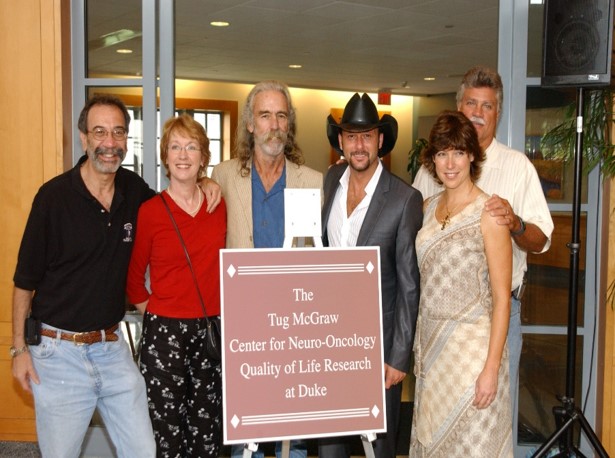 A gift from the Tug McGraw Foundation establishes The Tug McGraw Center for Neuro-oncology Quality of Life Research at The Preston Robert Tisch Brain Tumor Center. 
The center is awarded one of the nation's four fully funded SPORE awards in brain cancer from the National Cancer Institute, a total of $12 million over five years.
2005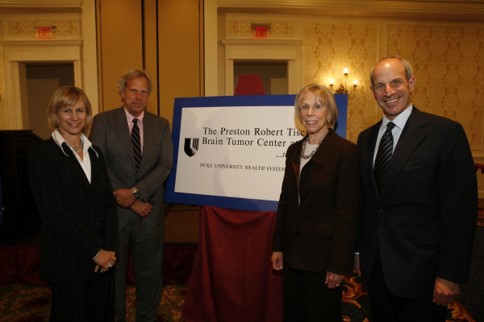 The Preston Robert Tisch family of New York donates $10 million to support cancer research at the Duke Brain Tumor Center, which is renamed in recognition of the gift. 
Robert Teabeaut II, MD, leaves an estate gift of over $2.2 million to support brain tumor research.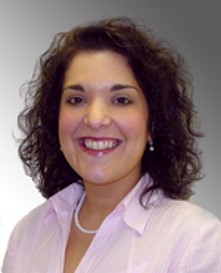 Annick Desjardinscompletedpletes a two-year fellowship at the brain tumor center before joining Henry Friedman as a faculty member on the adult clinical care team in 2005.
2007
An anonymous donor gives $5 million to Duke to establish two endowed research funds, one named for Allan Friedman and one for Henry Friedman. 
Stan and Melinda Epperson, members of the Duke Brain Tumor Program Board of Advisors, pledge $1 million, in memory of their son, to establish the Jeffery Thomas Epperson Memorial Endowment Fund.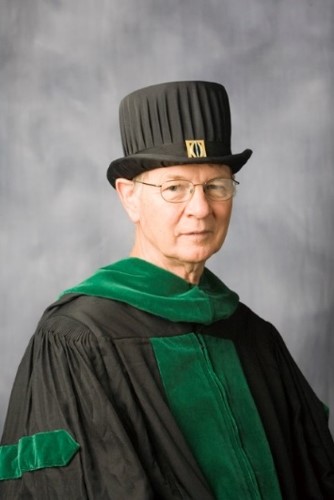 Bigner receives a Doctor of Medicine (honoris causa) degree from the University of Lund, Sweden.
2008
Allan Friedman received international attention for performing surgery on Senator Ted Kennedy and newspaper columnist Robert Novak, who had a brain tumor. 
Bigner receives the Zuelch Prize, Germany's most prestigious award for basic neurological research. 
John Sampson, MD, Ph.D., showed that a vaccine aimed at inducing immunity to glioblastoma multiforme has more than doubled the survival time in patients.
Chay Kuo, MD, Ph.D., won three major awards for his research in brain tumors: Director's New Innovator Award of $1.5 million from the National Institutes of Health; Distinguished Scientist Award from the Sontag Foundation for $600,000; and Packard Fellow in Science and Engineering Award from the David and Lucile Packard Foundation for $875,000. 
Duane Mitchell, MD, Ph.D., finds that by using a vaccine to target a common herpes virus found in up to 80 percent of Americans, doctors may be able to extend the lives of patients diagnosed with glioblastoma multiforme.
2009
The FDA approved Avastin for recurrent glioblastomas thanks largely to Henry Friedman's efforts to get approval from the drug maker. James Vredenburgh, MD, and Friedman discovered that the drug – already approved for other cancers – would effectively fight glioblastomas. This is the first new drug approved for glioblastomas in over a decade.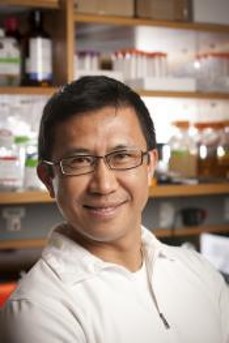 Hai Yan, MD, Ph.D., and a team of Duke researchers make an exciting discovery of mutations in two genes that could become therapeutic targets in malignant gliomas. The research is published in the New England Journal of Medicine.
Bigner and Yan are part of a group of five researchers who win the National Brain Tumor Society's first "Founders Award for Research Excellence" for groundbreaking work in the major collective advancement in the genomic analysis of gliomas.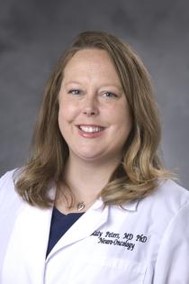 Katherine Peters, MD, Ph.D., completed a fellowship in 2009 at the brain tumor center before joining Henry Friedman and the adult clinical care team.
2010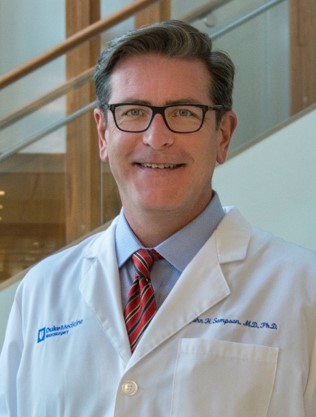 Sampson and his experimental vaccine research continue to bring national and international exposure. Preliminary findings from the clinical studies demonstrated the use of the vaccine prolongs life.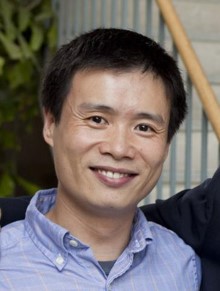 Yiping He, PhD, arrives at Duke to work with Bigner and Yan to expand Duke's genomic program, focusing on brain tumor genetics, tumor biology and biomarker studies.
2011
A discovery by scientists at Duke and Johns Hopkins University could increase the chances for an effective combination of drug therapy to treat the second-most common type of brain tumor. 
Duke researchers find a "fountain of youth" that sustains the production of new neurons in the brains of rodents. This is believed to be present in the human brain as well. Kuo is senior author of the study.
Scientists at Duke discover that genetic mutations found in brain tumors can alter tumor metabolism. Yan led a collaborative group of researchers to conduct the study, including He and Bigner. 
Accelerate Brain Cancer Cure and The V Foundation announce a $1 million research grant to Yan to further develop novel approaches to target gliomas. 
Carrie Muh, MD, is recruited to join the pediatric neurosurgical team
2012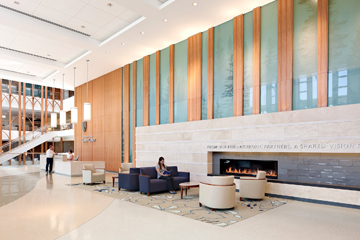 Brain tumor patients are now seen in the new Duke Cancer Center building, the first building at Duke dedicated solely to the care of patients with cancer.
Bigner receives a five-year and more than $14 million grant from the National Cancer Institute. He and co-investigators Sampson and Zalutsky received a perfect score upon peer review of their grant. Such an outstanding score represents independent external validation of the excellence of clinical research at The Preston Robert Tisch Brain Tumor Center. 
2013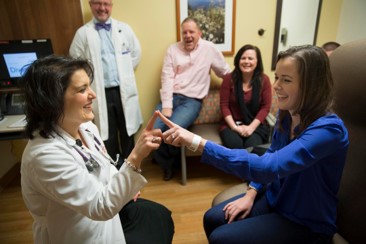 Doctors at Duke go to radical lengths to save the life of a then 20‐year‐old college student from South Carolina, stricken with one of the most aggressive forms of brain tumors. Gromeier and Desjardins suggest something radical; killing her cancer cells with the poliovirus. Gromeier discovered in 1998 that the virus could attack other cancer cells but had to research and test the theory for the last decade. 
Research led by Yan and collaborators at Johns Hopkins and other institutions find newly identified mutations in a gene that makes cells immortal appear to play a pivotal role in three of the most common types of brain tumors, as well as cancers of the liver, tongue and urinary tract, according to research led by Duke Cancer Institute. He won the National Comprehensive Cancer Network (NCC) Foundation Young Investigator Awards Grant for his proposed research, "Genetic approaches for analyzing the role of aberrant MLL2 in tumorigenesis."
Christopher and Bronwen Gleeson establish the Christopher and Bronwen Gleeson Family Brain Tumor Research Fund with a gift of $1 million.
2014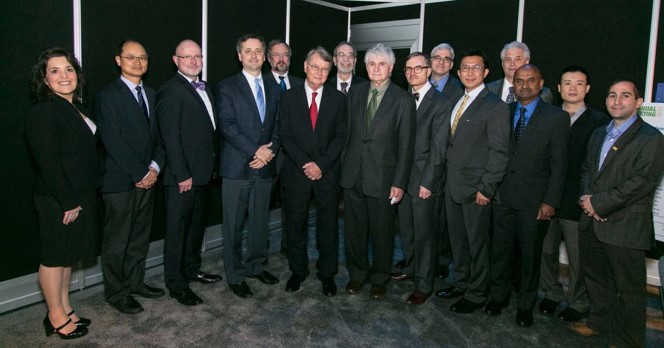 The American Association for Cancer Research (AACR) awards the Eighth Annual AACR Team Science Award to the Duke University/Johns Hopkins University/National Cancer Institute (NCI) Malignant Brain Tumor Team at the 2014 AACR Annual Meeting. The AACR Team Science Award recognizes an outstanding interdisciplinary research team for its innovative and meritorious scientific work that has advanced or will likely advance cancer research, detection, diagnosis, prevention, or treatment.
Yan is awarded the distinguished Henry S. Friedman Professor of Neuro-oncology. This professorship recognizes Yan's scientific accomplishments at Duke, which have centered around uncovering major genetic alterations in glioma, including IDH1 and IDH2. Yan's work has gone even further in determining the unique biology driving tumors to develop in the brain.
Bigner is selected as the recipient of the 2014 Lifetime Achievement Award from the Society of Neuro‐Oncology. Dr. Bigner also receives the Feldman Founder's Award for his decades of outstanding contributions and invaluable impact on the field of brain tumor research.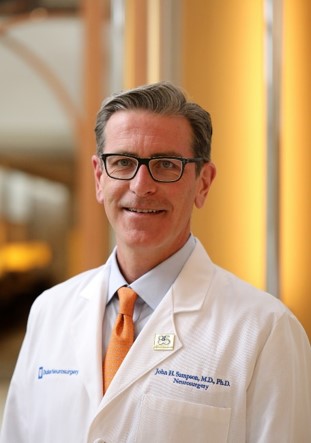 The 2014 Shingleton Award is given to Ruth and Gary Cless for their philanthropy and dedication to The Preston Robert Tisch Brain Tumor Center.
Sampson was appointed chief of the Division of Neurosurgery on April 1,  2014. Sampson joined the division in 1998.
Dr. Henry Friedman receives Duke's Distinguished Faculty Award.  
The Isaac and Florence Chera Foundation establishes The Stanley Chera and Family Brain Tumor Research Fund with a gift of $2.5 million. 
Peter Fecci, MD, PhD,  joins the Duke neuro-surgery team and will also serve as Director of the Brain Tumor Immunotherapy program.
Eric Thompson, MD, works with the Duke Pediatric Neuro-surgery team to help take care of Duke's pediatric brain tumor patients. 
2015
The National Cancer Institute honors Bigner with the Outstanding Investigator Award (OIA). The OIA is a generous 7-year, approximate $7 million grant.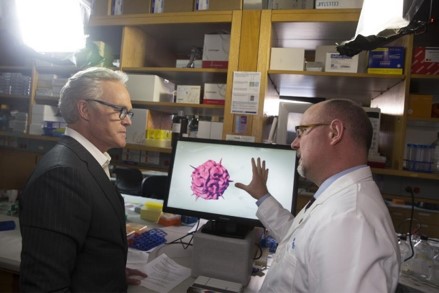 60 Minutes airs "Killing Cancer" on March 29, 2015, introducing the Duke polio vaccine being used to radicate  glioblastomas,  which  involves injecting a genetically modified polio virus directly into a brain tumor. The virus latches onto cancer cells and activates the body's immune system to  attack the tumor.
Mr. and Mrs. Cliff Asness establish the Asness Family Brain Tumor Research Fund to honor the life of his father, Barry Asness.
The 2015 Shingleton Award is received by the Mindy and Ross Deutsch and Ellyn and Alan Samsky families. These two families raised $3.5 million to establish the Rory David Deutsch Scholar and the Rory David Deutsch Professorship.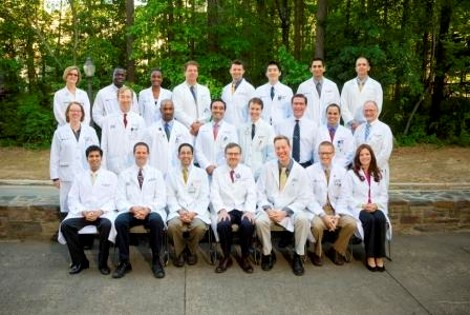 The Division of Neurosurgery is elevated to departmental status within the School of Medicine. The Duke University Board of Trustees approved the creation of the Department of Neurosurgery, with Sampson named as chair of the department.
Darell Bigner, MD, Ph.D., director emeritus of The Tisch Brain Tumor Center, is ranked number seven nationally in NIH funding among all Pathology Principal Investigators for 2015—a remarkable feat considering that grants were distributed to a total of 876 Pathology Principal Investigators.
Sampson is awarded the 2015 Abhijit Guha Award. Jointly administered by the Society for Neuro-Oncology and the AANS/CNS section on tumors, the award honors an accomplished investigator who has achieved significant results both in the laboratory and the clinic, and has actively mentored the next generation of neuro-oncology professionals.
Peter E. Fecci, MD, Ph.D., is awarded the Sontag Foundation's Distinguished Scientist Award for his work with bone marrow T Cell sequestration. This four-year grant supported Fecci's project to better characterize T Cell sequestration in glioblastomas by deciphering the causes and developing the means for releasing T cells to create a more effective mode of brain cancer therapy.
Investigators at The Preston Robert Tisch Brain Tumor Center discovered that administration of tetanus toxoid vaccine leads to enhanced CCL3 systemic levels, which are responsible for improving dendritic cell migration in both mice and GBM patients. Nature publishes an article that describes how a small clinical trial for glioblastoma patients demonstrates that the immune and anti-tumor response to dendritic cell vaccination (a type of immunotherapy) is increased by pre-conditioning the site of vaccination with tetanus/diphtheria toxoid (Td). The benefits of adding tetanus toxoid injections to the dendritic CMV vaccine therapy for glioblastoma patients are broadcasted on all the major news networks, including ABC, NBC, and CBS.
2016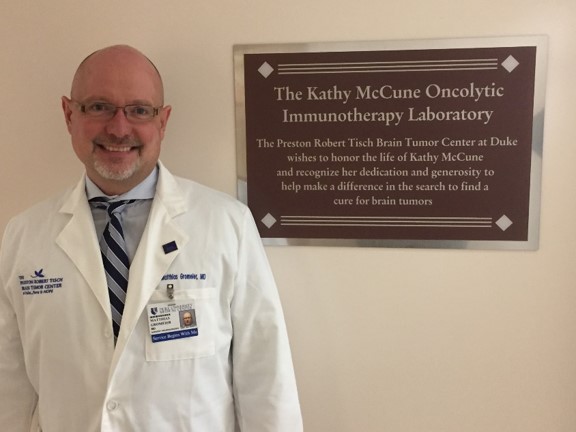 The Kathy McCune Oncolytic Immunotherapy Laboratory is established with an estate gift from the family of Kathy McCune. =
Gerhard and Ruth Cless establish the Cless Family Neuro‐oncology Professorship.
The Shingleton Award is received by Stan and Melinda Epperson for their philanthropy, dedication and commitment to The Preston Robert Tisch Brain Tumor Center.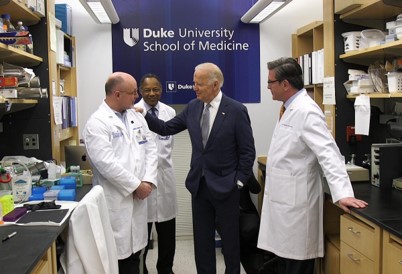 Invoking the aspirational spirit that put U.S. astronauts on the moon, Vice President Joe Biden visited Duke as part of the national "moonshot" initiative he is leading to advance cancer research.  The vice president met with John Sampson, MD, Ph.D. and Matthias Gromeier, MD of the Preston Robert Tisch Brain Tumor Center.
The Tisch Brain Tumor Center is featured again on 60 Minutes. A year ago, the news magazine introduced viewers to the  amazing work of the team behind the poliovirus therapy. The 2016 double segment reports several updates, including the news that the FDA granted breakthrough status to the treatment.
2017
Duke University's John H. Sampson, MD, Ph.D., has been named to the National Academy of Medicine. Sampson is the Robert H. and Gloria Wilkins Distinguished Professor of Neurosurgery and chair of the Duke Department of Neurosurgery.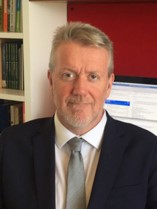 David Ashley, MBBS, FRACP, PhD, becomes director of Pediatric Neuro-Oncology for Duke's Preston Robert Tisch Brain Tumor Center (PRTBTC).
2017 marks the 80th anniversary of Duke's Preston Robert Tisch Brain Tumor Center.
2018
John Sampson, MD, Ph.D., is elected to the Association of American Physicians, an honor given to those who have attained excellence in pursuing medical knowledge and its application to clinical medicine to improve health.
Peter E. Fecci, MD, Ph.D., is appointed associate deputy director of the Preston Robert Tisch Brain Tumor Center.
Hai Yan, MD, Ph.D. and Bill Diplas, MD/Ph.D. candidate and colleagues in the Preston Robert Tisch Brain Tumor Center published their findings on May 25, 2018, in the journal Nature Communications.  The Killela Oncotarget manuscript has the molecular classification of gliomas now adopted by the World Health Organization.
The genetically modified poliovirus therapy developed at The Preston Robert Tisch Brain Tumor Center shows significantly improved long-term survival for patients with recurrent glioblastoma, with a three-year survival rate of 21 percent in a phase 1 clinical trial.
Results are presented at the 22nd International Conference on Brain Tumor Research and Therapy in Norway and published in The New England Journal of Medicine.