The research activities of the Neuro-Oncology Program are supported by government grants and contracts, foundation and agency awards, and philanthropy. The program is currently funded at a level of more than $14 million in direct costs annually (government, foundation, and agency awards). The 28 primary program members hold 27 NIH grants, including 11 R01s, a P50, an R35 grant (
Outstanding Investigator Award
, Darell Bigner, MD, PhD, [PI]), a P01 grant (Clinical Program Project grant, Bigner, PI), and a 
NCI SPORE
in Brain Cancer grant (Specialized Program of Research Excellence, John Sampson, MD, PhD and Francis-Ali-Osman, DSc, [PI's and Program Directors]) and 6 F Awards. In addition, Duke is only one of three
Pediatric Brain Tumor Foundation
Institutes (Sampson, PI and Director) funded by the foundation since 2003. 
2018
Most glioblastoma tumors are marked by one or two broad mutation patterns, but about 20 percent of the lethal brain tumors have biomarkers that cannot be identified. Scientists at the Preston Robert Tisch Brain Tumor Center identified mutations for the vast majority of the remaining 20 percent of uncharacterized tumors, which tend to be especially lethal. The findings indicate that these mutations involve a previously unknown disruption of the cell's normal mortality that is governed by components called telomeres. Telomeres are pieces of DNA that protect the ends of chromosomes. Under normal circumstances, they become shorter with age and eventually trigger a series of events that leads to a cell's natural death. Some genetic mutations cause them to remain long however, so cells never die, leading to immortal cells and tumor growth.  Hai Yan, MD, PhD and Bill Diplas, MD/PhD candidate and colleagues in the Preston Robert Tisch Brain Tumor Center published their findings May 25, 2018 in the journal Nature Communications.  The Killela Oncotarget manuscript has molecular classification of gliomas now adopted by the World Health Organization.

A phase 1 trial of a therapy developed by researchers at the Preston Robert Tisch Brain Tumor Center shows significantly improved long-term survival for patients with recurrent glioblastoma. The poliovirus therapy showed a three-year survival benefit of 21 percent.  In comparison, just 4 percent of patients at Duke with the same type of brain tumors were alive at three years when undergoing the standard treatment.  "With the survival rates in this early phase of the poliovirus therapy, we are encouraged and eag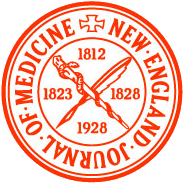 er to continue with the additional studies that are already under way or planned," said Darell Bigner, MD, PhD, senior author of the study.  Director of the Preston Robert Tisch Brain Tumor Center at Duke and co-senior author David Ashley, MBBS, FRACP, PhD along with co-lead authors Matthias Gromeier, MD and  Annick Desjardins, MD, reported median follow-up of 27.6 months in the phase 1 trial, which was launched in 2012 with a young patient who is now in remission and working as a pediatric oncology nurse. 
Results were presented June 26, 2018 at the 22nd International Conference on Brain Tumor Research and Therapy in Norway and simultaneously published in The New England Journal of Medicine.
2016 
(The Following is a Select List of Recent Scientific Accomplishments)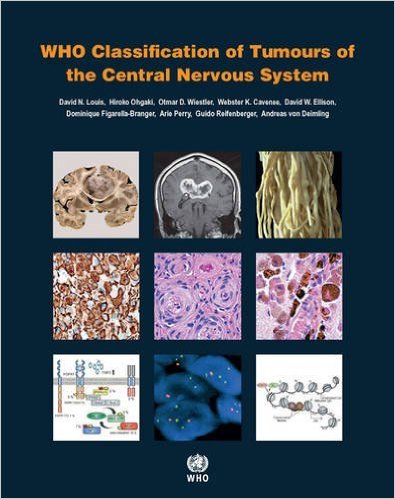 The newest edition of the World Health Organization I ARC Blue Book Classification of Tumors of the Central Nervous System is published. The mission of The International Agency for Research on Cancer is to provide a standard language for oncologists and pathologists internationally as a major step in improving cancer prevention and treatment. All of the molecular classifications of gliomas in this fourth edition are based entirely on molecular discoveries made by Bigner; Hai Yan, MD, PhD;  and Bert Vogelstein, MD. This extensive text, equipped with more than 800 color images and tables, will be the go-to material for any type of tumor referencing needed. It is invaluable to neuro-oncologists, and covers everything from diagnostic criteria, pathological features, and associated genetic alterations, all of which are described in a disease-oriented manner.
The National Institutes of Health (NIH) is a governmental agency that invests $32.3 billion annually to the leading medical researchers in the United States. Bigner, MD, PhD, director of The Preston Robert Tisch Brain Tumor Center, is ranked number seven nationally in NIH funding among all Pathology Principal Investigators for 2015—a remarkable feat considering that grants were distributed to a total of 876 Pathology Principal Investigators. Bigner received more than $4.5 million in NIH grants, including the prestigious Outstanding Investigator Award (NCI R35), for this past fiscal year. This funding has enabled him and his staff to conduct pioneering research projects that lead to the discovery of innovative treatment methods, such as the oncolytic poliovirus therapy, an unconventional approach that uses a re-engineered poliovirus to kill cancer cells in brain tumors. Over the course of his career, Bigner has led numerous unique projects on neuro-oncology research, procuring millions of dollars in support funding to expedite the search for a cure for such a devastating disease.
The poliovirus therapy used to combat glioblastoma is given "breakthrough therapy designation" by the U.S. Food and Drug Administration in May 2016. The treatment, which was spearheaded by Matthias Gromeier, MD, uses a re-engineered poliovirus that is lethal to cancer cells but non-lethal to normal cells. This radical therapy has shown substantial improvement over the available therapy for glioblastoma — one of the most difficult human cancers to treat — and the granted breakthrough status will expedite the poliovirus approach and hopefully lead to overall FDA approval of the therapy.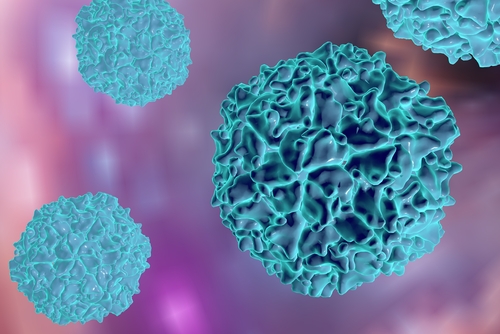 60 Minutes launches part two of their two-segment story "Killing Cancer." Anchor Scott Pelley describes the poliovirus therapy's recent breakthrough therapy designation by the U.S. Food and Drug Administration, and takes a closer look at how the novel therapeutic approach can potentially be applied to other types of cancers, including (but not limited to) pancreatic, melanoma, prostate, and  breast cancer.
Investigators at The Preston Robert Tisch Brain Tumor Center determine the no-observed-adverse-effect-level and maximum tolerated dose of their novel immunotoxin, D2C7-(scdsFv)-PE38KDEL (D2C7-IT), in rats. This preclinical toxicity study supports a Phase1/Phase 2 Investigational New Drug application. D2C7-IT reacts with wild-type epidermal growth factor receptor (EGFR) and EGFR variant III, two overexpressed proteins on glioblastomas. While it is still too early to determine D2C7-IT's therapeutic efficacy, the new agent is showing promising results for glioblastoma patients currently enrolled in the clinical trial.
2015
60 Minutes launches their two-segment story "Killing Cancer," which follows brain cancer patients at Duke undergoing a clinical trial of a therapy that uses a re-engineered poliovirus to kill cancer cells.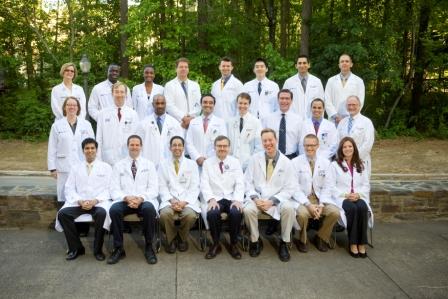 The Division of Neurosurgery is elevated to departmental status within the School of Medicine. The Duke University Board of Trustees approved the creation of the Department of Neurosurgery, with Sampson named as chair of the department.
Check out the Duke Department of Neurosurgery here
Bigner, director of The Preston Robert Tisch Brain Tumor Center, is awarded an Outstanding Investigator Award grant (R35) (NCI) for his work with oncolytic poliovirus, immunotoxin, and checkpoint inhibitor therapy for gliomas.This combinatorial therapy should create paradigm shifts in GBM treatment resulting in significant increases of high quality of life and ultimate survival.
Sampson is awarded the 2015 Abhijit Guha Award. Jointly administered by the Society for Neuro-Oncology and the AANS/CNS section on tumors, the award honors an accomplished investigator who has achieved significant results both in the laboratory and the clinic, and has actively mentored the next generation of neuro-oncology professionals.
The Pediatric Brain Tumor Foundation (http://www.curethekids.org/) awards Duke more than $1 million to fund projects, which are conducted under the direction of Sampson, involving pediatric brain tumor research.
Peter E. Fecci, MD, PhD, is awarded the Sontag Foundation's Distinguished Scientist Award for his work with bone marrow T Cell sequestration. This four-year grant provides support for Fecci's project with the aim to better characterize T Cell sequestration in glioblastomas by deciphering the causes and developing the means for releasing T cells in order to create a more effective mode of brain cancer therapy.
Roger E. McLendon, MD, Chief of the Brain Tumor Biorepository, has distributed 6,338 cases to 45 collaborators, both at Duke and elsewhere, to support basic and translational discoveries. At present, the Biorepository includes 31,636 frozen tumor blocks, 11,359 paraffin-embedded blocks, and tissues for over 2,340 individual brain tumor patients. The Preston Robert Tisch Brain Tumor Center (PRTBTC) Biorepository achieves certification under the College of American Pathologists' Biorepository certification program.
Investigators at The Preston Robert Tisch Brain Tumor Center discover that administration of tetanus toxoid vaccine leads to enhanced CCL3 systemic levels, which are responsible for improving dendritic cell migration in both mice and GBM patients. Nature publishes an article that describes how a small clinical trial for glioblastoma patients demonstrates that the immune and anti-tumor response to dendritic cell vaccination (a type of immunotherapy) is increased by pre-conditioning the site of vaccination with tetanus/diphtheria toxoid (Td). The benefits of adding tetanus toxoid injections to the dendritic CMV vaccine therapy for glioblastoma patients is broadcasted on all the major news networks, including ABC, NBC, and CBS.
Read more about the Tetanus Toxoid vaccine here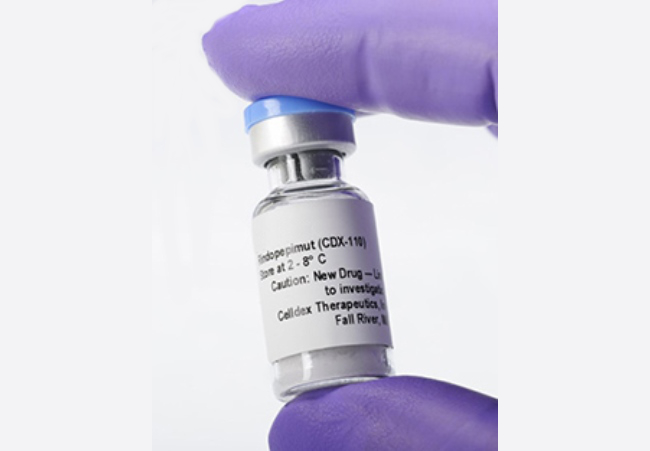 Sampson and Amy Heimberger, MD (MD Anderson Cancer Center), in collaboration with multiple investigators from other universities, publish the results of a phase II, multicenter trial of the EGFRvIII-targeting vaccine rindopepimut in newly diagnosed GBM patients. The results demonstrate an increase in overall survival and progression-free survival in patients receiving the vaccine.