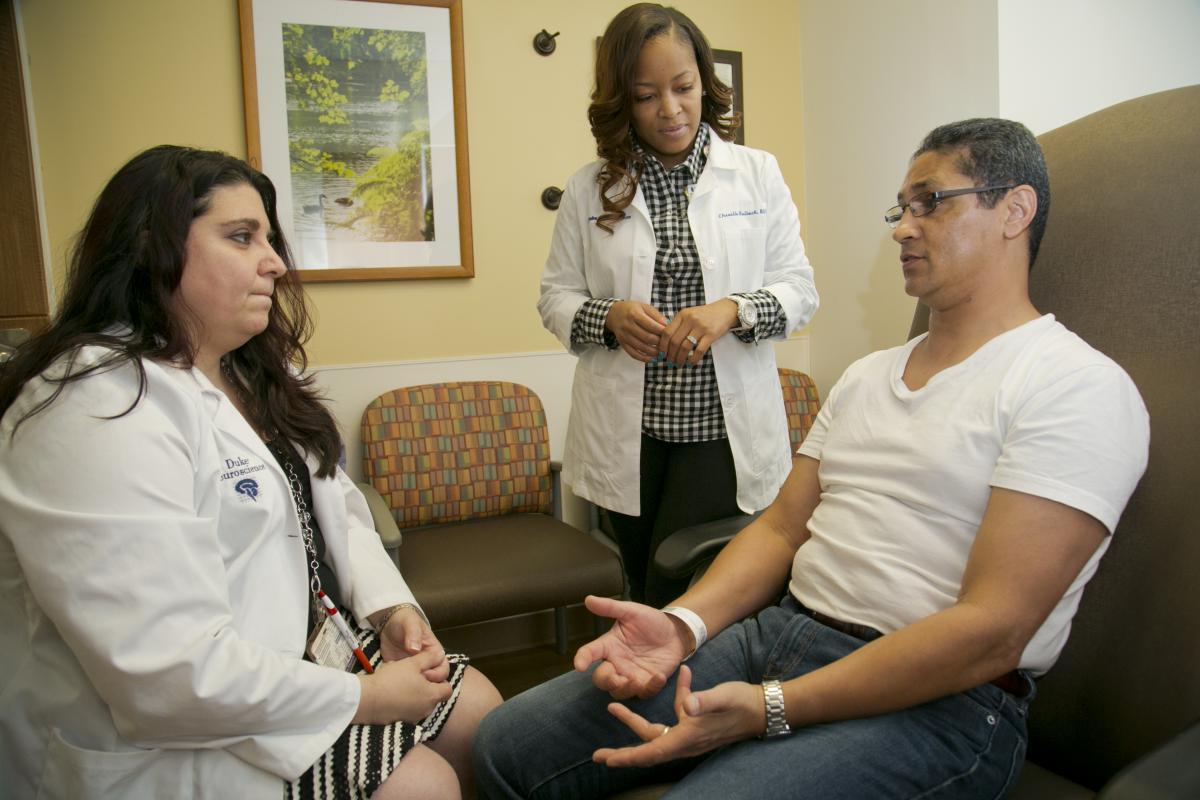 ---The Neuro-Oncology Program at Duke takes pride in its outstanding reputation. Here are just a few prominent points of pride that demonstrate why Duke's Preston Robert Tisch Brain Tumor Center is one of the most elite brain tumor centers in the world.  
---We evaluate more than 900 new adult brain tumor patients per year and approximately 75 new pediatric brain tumor patients per year.
---The research activities of the Neuro-Oncology Program are supported from government grants and contracts, foundation and agency awards, and philanthropy. It is currently funded at a level of over $17 million in direct costs annually (government, foundation, and agency awards). The 28 primary program members hold 24 NIH grants, including an NCI R35 grant (Outstanding Investigator Award, Darell Bigner, MD, PhD [PI]), an NCI PO1 grant (Clinical Program Project grant, Bigner [PI]), and an NCI SPORE in Brain Cancer grant (Specialized Program of Research Excellence, John Sampson, MD, PhD, and Francis-Ali-Osman, DSc [PIs and Program Directors]).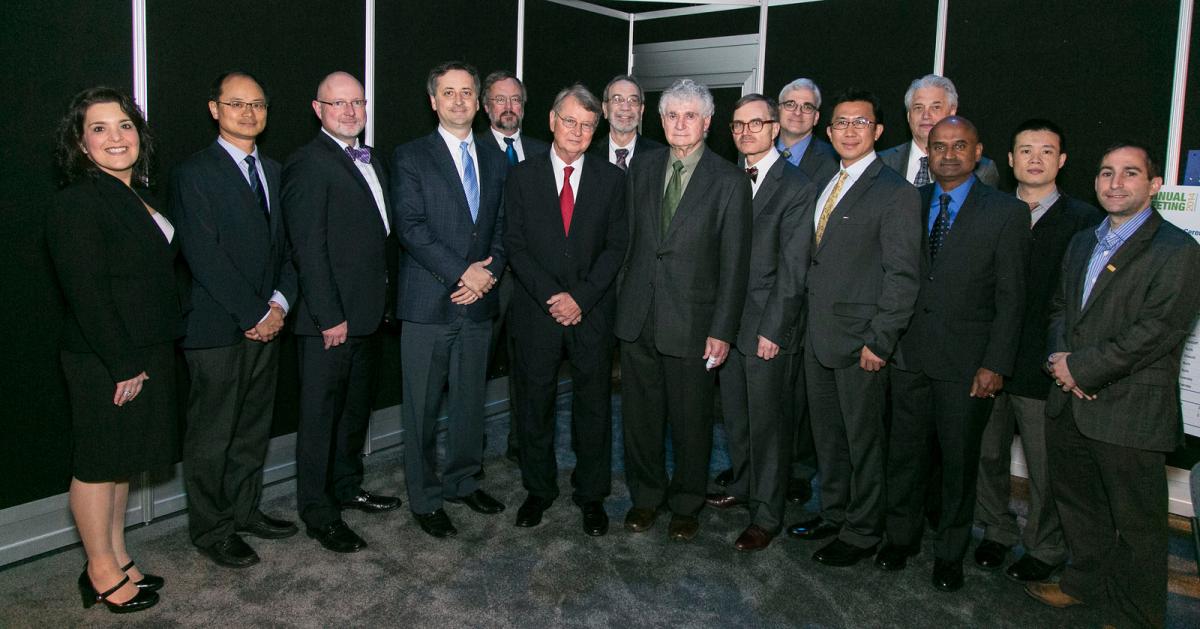 ---In 2014, the Neuro-Oncology Program at Duke received the American Association for Cancer Research (AACR) Team Science Award for their findings, having informed both the basic science and clinical communities in managing diagnosis, prognosis, and treatment of brain tumors. This multi-institutional team, led by Bigner, includes 26 faculty members from Duke, Johns Hopkins, and the NCI. The team was selected because of the immense impact their research has had on our understanding of the biology of glioblastoma multiforme (GBM), the most common and lethal type of brain cancer. 
---In 2015, NCI awarded Bigner with an Outstanding Investigator Award grant (R35) for his work with oncolytic poliovirus, immunotoxin, and checkpoint inhibitor therapy for gliomas. This combinatorial therapy should create paradigm shifts in GBM treatment resulting in significant increases of high quality of life and ultimate survival.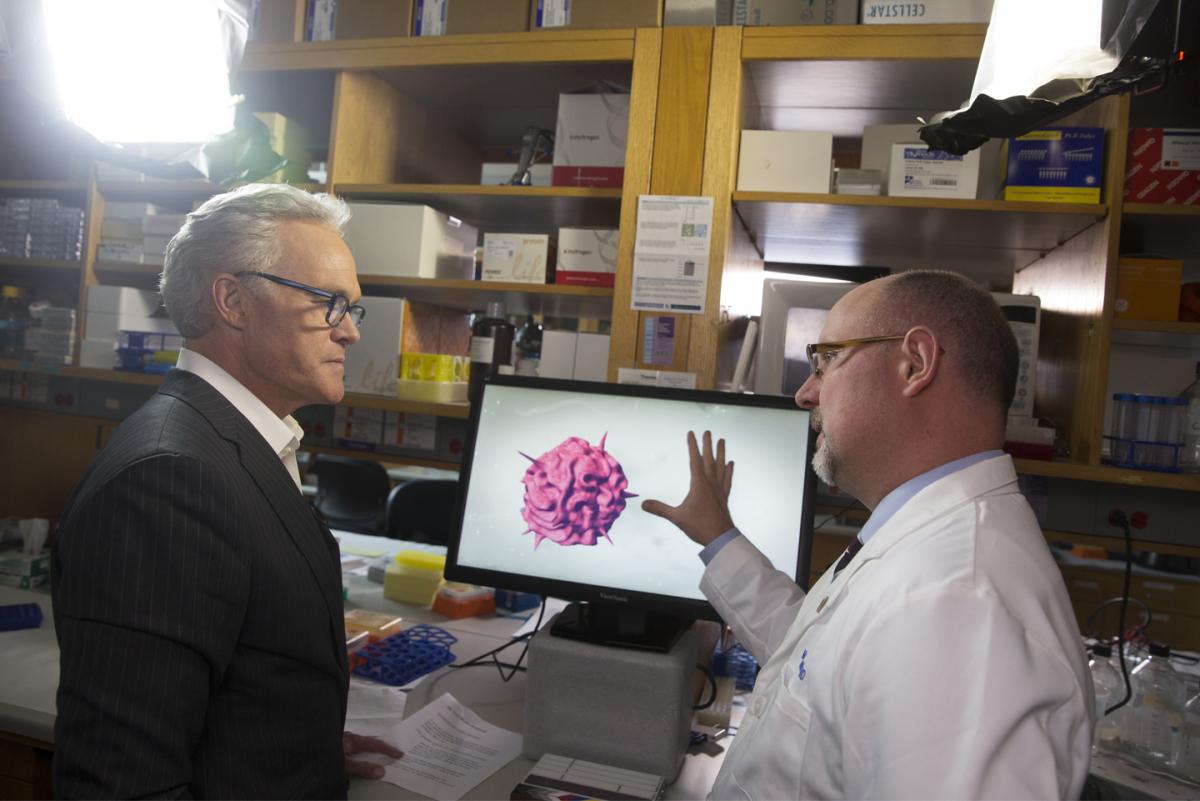 ---Duke's Neuro-Oncology Program receives nationwide attention, and has been a focus of many media sources. For instance, in March, 2015 and May of 2016, 60 Minutes launched a two-segment piece, entitled "Killing Cancer," which followed brain cancer patients at Duke undergoing a clinical trial of a therapy that uses a re-engineered poliovirus to kill cancer cells.
---The Preston Robert Tisch Brain Tumor Center has also received press coverage for treating celebrities like former Senator Ted Kennedy and American journalist Robert Novak. Furthermore, the Neuro-Oncology Program's knack for implementing innovative therapies results in publications within medical journals and mainstream magazines, such as the May 5, 2014 article featured in People magazine.  
---The Brain Tumor Center has a large infrastructure in which to conduct clinical research. We have ten clinical research coordinators who manage enrollment and accrual of patients for clinical trials, and seven data management personnel. In addition, we have five staff members dedicated to regulatory activities, and a protocol writer. Clinical investigators see patients in Duke Cancer Center, which opened in 2012. The Brain Tumor Clinic has all the necessary exam rooms, and has access to radiation oncology and support programs housed within the Cancer Building.   
---Six of the 28 primary and three secondary program members are named to endowed professorships by Duke University. Endowed professorships called distinguished professorships are the highest academic rank.
Francis Ali-Osman, DSc, Margaret Harris and David Silverman Professor of Neuro-oncology Research
Darell Bigner, MD, PhD, Edwin L. Jones, Jr. and Lucille Finch Jones Professor of Cancer Research
Allan Friedman, MD, Guy L. Odom Professor of Neurosurgery
Henry Friedman, MD, James B. Powell, Jr. Professor of Neuro-oncology 
John Sampson, MD, PhD, Dr. Robert H. Wilkins and Gloria Wilkins Professor of Neurosurgery
Hai Yan, MD, PhD, Henry S. Friedman Professor of Neuro-oncology
Mark Dewhirst, DVM, PhD, Gustavo S. Montana Professor of Radiation Oncology
Sally Kornbluth, PhD, James B. Duke Professor of Pharmacology and Cancer Biology
Michael Zalutsky, PhD, Jonathan Spicehandler, MD Professor of Neuro-oncology Research 
---In 2018, researchers at The Preston Robert Tisch Brain Tumor Center show increased survival in patients with deadly brain tumors in a study published in the New England Journal of Medicine.  A phase 1 trial of a therapy shows significantly improved long-term survival for patients with recurrent glioblastoma. The poliovirus therapy showed a three-year survival benefit of 21 percent.  In comparison, just 4 percent of patients at Duke with the same type of brain tumors were alive at three years when undergoing the standard treatment.  Results were presented June 26, 2018 at the International Conference on Brain Tumor Research and Therapy in Norway.