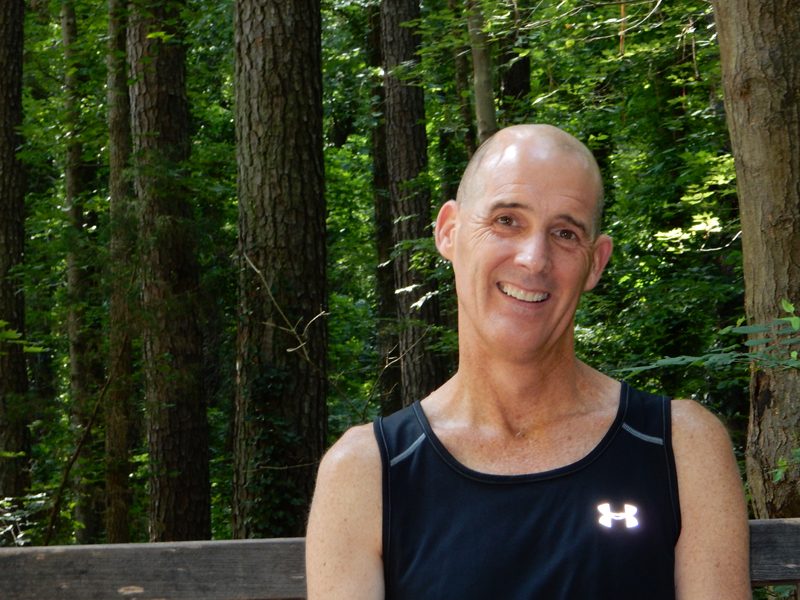 Tom O'Donnell, 53, might be proof that not every superhero wears a cape.  
A manager at Walgreens by day, he appears to be your average, middle-aged man, with his only obvious distinction being a long scar, left by his nemesis, engraved across the right side of his shaven head. The scar eventually became his signature mark, perceived by his friends and family as a symbol of one man's journey from ordinary to extraordinary. 
In July, 2009, O'Donnell started experiencing an eye twitch, and his primary physician recommended an MRI. He was suddenly faced with an inimitable villain – the MRI revealed he had a malignant brain tumor called oligodendroglioma located on the front, right lobe of his brain. 
Oligodendroglioma is impossible to completely resect due to chicken wire-like blood vessels branching out from the tumor and taking root in healthy areas of the brain. Surgery is often risky and is contingent on the position of the tumor. 
O'Donnell was referred to Allan Friedman, MD, a neurosurgeon from Duke's Preston Robert Tisch Brain Tumor Center. Friedman explained that due to the location of the tumor, resection could cause O'Donnell to lose the use of the left side of his body. Furthermore, he only had a 50 percent chance of surviving the craniotomy. 
"It was scary," O'Donnell said. "It was all so overwhelming for my family and me." Realizing that battling brain cancer was not for the fainthearted, O'Donnell's kryptonite, fear, was leaving him powerless.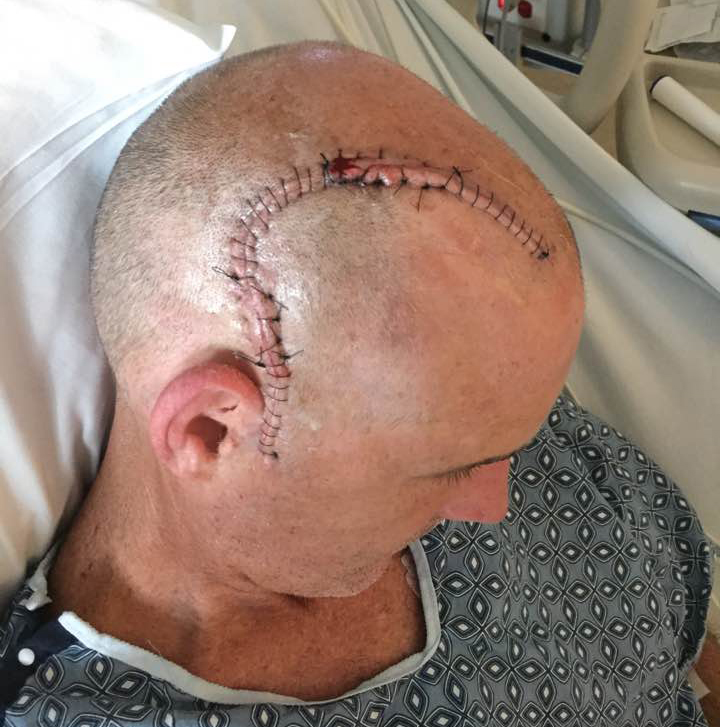 Fortunately, Friedman was able to perform the surgery without causing any damage, and the operation was deemed a success. But when O'Donnell awoke from surgery with the same mental and physical abilities he always possessed, he perceived there was something very different within.  
"It was as if someone flipped a switch," O'Donnell said. "I realized the impossible was possible. It sounds weird, but being diagnosed with a brain tumor may be the best thing that ever happened to me. I started to see things from a different perspective and with more clarity. And I met people and patients I otherwise would not have met. It was like I suddenly had a story."  
After facing the possibility of not being able to walk, three weeks after surgery O'Donnell began to run. "I liked the way it made me feel: alive. I ran because I could; I ran for the patients who could not." 
He ran every day, sometimes twice. He even started competing in marathons. Nothing seemed to be slowing him down. However, in March, 2013, his neuro-oncologist, Katherine Peters, MD, PhD, broke the news that a routine MRI scan showed regrowth. He had to have a second brain surgery. Once again, Friedman removed the mass, and O'Donnell underwent almost a year of chemotherapy.  
Two brain surgeries later, he was still unstoppable. In fact, O'Donnell completed his second Boston Marathon two days after receiving the final dose of chemo.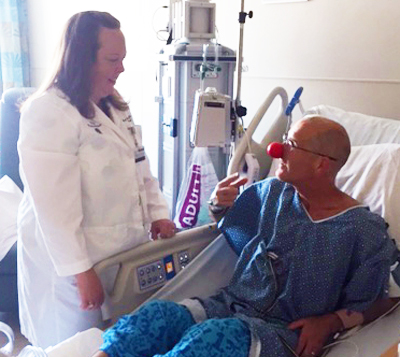 His physician was impressed, but not surprised. By this time, Peters was no longer just O'Donnell's neuro-oncologist, she was his friend and even surprised him at one of his races by cheering him on at the finish line. She encouraged O'Donnell to keep running, claiming studies have shown that "a better exercise behavior is associated with a better prognosis."
Following his second surgery, O'Donnell felt he was on top of the world, grateful for having "dodged a bullet" — not once, but twice.
"You live from one scan to the next," O'Donnell said. "My daughter, Kerry, was a sophomore in high school when I was first diagnosed, and I was worried I wouldn't see her graduate. But I did. And then she started attending the University of North Carolina, and I thought, maybe I'll get to see her graduate from college. And sure enough – I was there last year to see her receive her diploma." 
Knowing all too well he would never be entirely "in the clear" when it came to his cancer, O'Donnell never gave up on optimism, claiming "hope is the only thing stronger than fear." 
He never gave up running, either.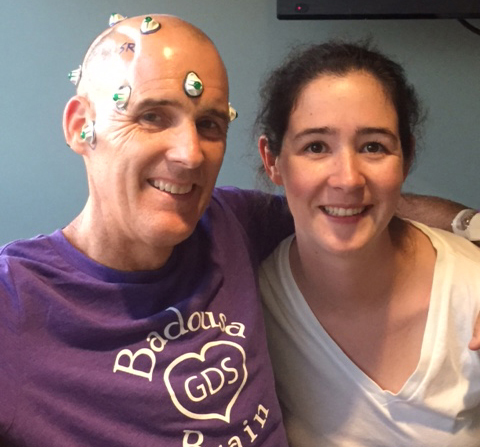 He became a familiar face to fellow runners on the American Tobacco Trail and started running with other brain tumor patients, including 36-year-old Nestor Paonessa. The two friends had met under sad circumstances – they were both attending the funeral of a former Duke patient who lost his battle to brain cancer. Paonessa, who was diagnosed with a different type of malignant brain tumor called glioblastoma, immediately connected with O'Donnell, and it wasn't long before they started running together.  
"Tom is the toughest guy I know," Paonessa shared, wrapping his arm around O'Donnell's shoulders. "He's my hero, and when I say he's a role model, I mean that. He's taught me how to live with brain cancer and how to be with brain cancer. He's got a huge heart and he's so full of hope that you can't help but be in high spirits whenever you're around him. He motivates and inspires me every day." 
As a vigilante who undertook the difficult job of conquering the pessimists with his zealous appetite for life, O'Donnell was keeping busy.  
Unfortunately, however, his archenemy was never far, knocking him off his feet once again when another MRI scan showed regrowth in June, 2017. 
"Every time this happens," O'Donnell said, "it's like the reset button is hit. I have to think, how am I going to deal with this bump in the road? But stopping is not an option. Giving up – not fighting – it's never an option." 
Friedman explained that while neurosurgeons "don't usually operate on recurrent tumors, but instead treat the patients with chemotherapy and radiation," O'Donnell's case was unusual. Since "the recurrence was focal and occurred way after the original surgery," it was recommended that yet another resection be scheduled. 
O'Donnell checked in for his third surgery a sweaty heap. He had just jogged the Al Buehler trail with Paonessa and hadn't had time to change out of his running clothes. O'Donnell may have entertained some worry that day, but his friends knew it was clobber time for the tumor. 
"If anybody can pull through a third surgery, it's this guy right here," Paonessa said, pointing to his buddy just before the operation. "He's probably in the best shape of his life, and I think he'll come out of this even better than he is going into it." 
Paonessa was right. Thanks to O'Donnell's perseverance, and, of course, a little help from his trusty sidekick, Friedman, O'Donnell enjoyed a ten-mile run along the American Tobacco Trail just three days after his surgery.  
Commenting that his pace was quicker than expected, O'Donnell jokingly attributed it to his neurosurgeon. "I did ask Dr. Friedman if he could put a speed chip in so I could run faster," he laughed.
O'Donnell's post-op MRI scan looked good, and he's currently undergoing six weeks of daily radiation combined with a low dose of chemotherapy. At the end of the six weeks, he will start a cycle of a higher dose of chemo. He continues to train for his 20th marathon, the Marine Corps Marathon taking place in Washington D.C. this October, and his sixth Boston Marathon, which takes place in April, 2018. As always, he remains enthusiastic.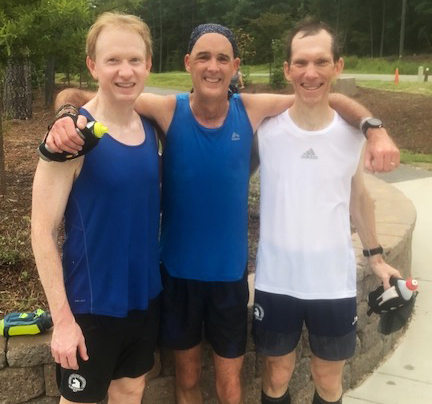 "I never planned on running a marathon," O'Donnell said, "let alone 20. And Boston – that's for serious runners. I started out a brain tumor patient who runs marathons and am now a marathon runner who has a brain tumor. That's what hope can do."
And while O'Donnell may have acquired the powers of speed and stamina over the years, perhaps his most fascinating attribute is his ability to harness the power of mind over matter.  
"I can't change the fact I have cancer, and I can't change the fact I've had three brain surgeries. But as a patient, there are things I can control, like my attitude and my perspective. In controlling my attitude I feel I can affect the outcome. By doing this, I'm doing my part. And that is really powerful." 
Tom O'Donnell participates annually in Angels Among Us, a 5K and family fun walk to help raise funds to benefit brain tumor research at The Preston Robert Tisch Brain Tumor Center at Duke. O'Donnell captains Team 101% Possible. To support his efforts, visit 101% Possible.  
*Note: Tom O'Donnell's number one goal is to participate in the World Marathon Challenge, a marathon that consists of running seven marathons on seven continents in seven days, but he needs a sponsor! If you are interested in helping O'Donnell reach his goal, please contact Jenna at jenna.lewis@duke.edu.