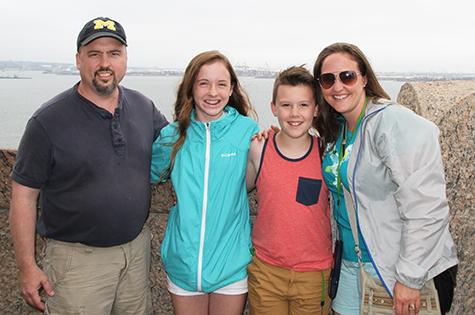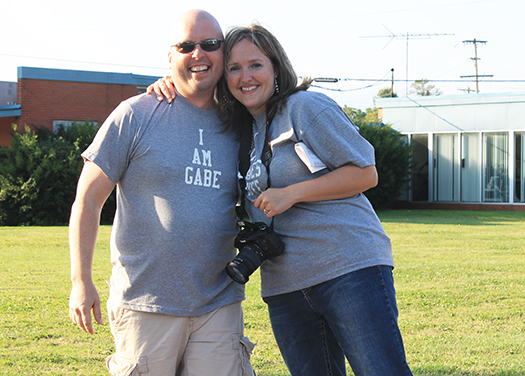 If 43-year-old Gabe Stewart were a matador, he would likely be a bull's worst enemy. Just ask his wife of 19 years, Tera, or his two kids, a 13-year-old daughter and an 11-year-old son — they'll testify to his stubborn refusal to be beaten, no matter what the odds.
On May 3, 2010, Stewart was diagnosed with the worst type of malignant brain tumor: grade IV glioblastoma (GBM).
Glioblastoma is one of the toughest cancers to treat. Few survive. According to the National Brain Tumor Society, there is a five-year survival rate of four percent. The cause is unknown, though research is increasingly pointing to genetic mutations.
After Stewart underwent brain surgery at a nearby hospital close to his hometown in Gallipolis, Ohio, his medical oncologist told him to get his affairs in order; he most likely had just one year to live.  
"Everything was just standard of care," remembered Stewart, who refused to be backed into a corner. "They were like, 'Here is what we do.' And I didn't want 'what we do,' I wanted what they were going to do for me."
So "through a series of fortunate events," Stewart came to The Preston Robert Tisch Brain Tumor Center at Duke for treatment. His new neuro-oncologist, Annick Desjardins, MD, took a much different approach — a difference which Stewart claims "you can't put a value on."
Desjardins reassured Stewart there would be ample tumor butt-kicking. And for a while, there was. Under her care, the tumor began to shrink.
However, two years later, when the same tumor started growing again, it became clear just how unyielding brain tumors are. Desjardins decided to try a different approach made up of a combination of chemotherapies. The new treatment seemed to be working, but Stewart's weakened immune system led to a staph infection, which spread through his head and resulted in bacterial meningitis. Five inches of his skull had to be removed.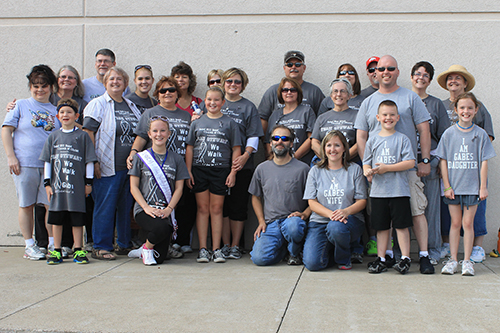 "Miraculously, the setback turned out to be a blessing in disguise: the infection kick-started my immune system," Stewart said. "This in turn attacked and killed off the remaining brain tumor cells."
But the nightmare wasn't over.
In fall of 2016, Stewart was undergoing a routine MRI to confirm he was still in remission when Desjardins noticed something. Glioblastoma has a high propensity for recurrence, and, unfortunately, another tumor had begun to take shape.
When it came to what could have been a crushing blow, though, Stewart didn't cower in retreat — he grabbed the bull by the horns. As did Desjardins, who deployed immunotherapy to fight the tumor.
Developed by Matthias Gromeier, MD, the genetically modified poliovirus, or PVSRIPO, is reengineered with a strain of a common cold virus so as not to cause the typical paralytic effects of polio.
The therapy selectively targets brain tumor cells, which carry receptors that act as magnets attracting the modified poliovirus. Studies have shown that PVSRIPO latches onto the cancer cells, destroying them. Moreover, because the body is tricked into sensing a foreign invasion, PVSRIPO also appears to elicit an immune response that attacks any remaining brain tumor cells.
For Stewart, the decision to participate in a phase I trial of PVSRIPO was unnerving, especially considering that the treatment is still not an FDA-approved drug and remains in an investigational stage.
"As a dad with other obligations, I had a lot to consider there," said Stewart, wondering what it would mean for his family's future if he could no longer work as a chief information security officer at the Ohio Valley Bank.
However, Stewart ultimately decided that taking the risk was "the responsible thing to do."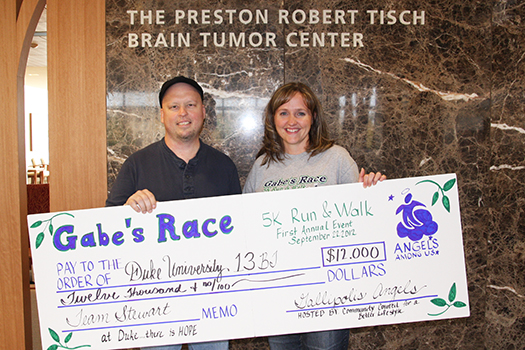 "I'm obligated to be a part of the greater good, even if the therapy proves unsuccessful," he said.
Stewart received the single infusion of the genetically modified poliovirus in February, and while it normally takes six to 12 months to see any tumor shrinkage, Desjardins confirmed that Stewart "appears to be experiencing the expected response from the immune system."
Hoping one day GBM will be curable, Stewart devotes his energy toward accelerating brain tumor research. His own fundraiser, "Gabe's Race 5k Run/Walk," has raised $100,000 for The Preston Robert Tisch Brain Tumor Center's charity, Angels Among Us.
Stewart is a huge supporter of the Angels Among Us 5k, an annual fundraiser hosted by The Preston Robert Tisch Brain Tumor Center to raise funds to support breakthrough brain tumor research at Duke. The event raises about $2 million each year, ensuring brain tumor research keeps moving forward to better treatments and a cure. As Stewart undergoes treatment, he continues to fundraise for Angels Among Us.
Taking part in the Angels event is "humbling," Stewart said. "The amazing results of the donations are right there before our eyes: the many brain cancer survivors . . . including me!"
Stewart's ongoing battle has taught him that "we're not guaranteed a tomorrow." But "dancing" with the bull has also taught him surrender is not an option. In fact, the only flag you'll see Stewart waving is a red one for victory.
The 2017 Angels Among Us 5k takes place at Duke on Saturday, April 29. To register for the event or start a team, visit Angels Among Us. To make a gift to Stewart's team, visit Team Stewart.