In 2008 Dave Robison experienced a grand mal epileptic seizure. His wife called 911. The next thing he remembered was waking up in a Denver hospital to a doctor in a white lab coat saying, "Sir you have a brain tumor."
"No you have the wrong guy, I've never even had a headache," Robison told the doctor.
Since he was away when it happened, he flew back home to Iowa where he had surgery; a full craniotomy. He woke to the surgeon saying that, unfortunately, the tumor was too deep, had too many fingers, and couldn't be removed. So a regimen of chemotherapy and radiation was recommended.
Robison said his first response was "Ok, then I'll be ok?"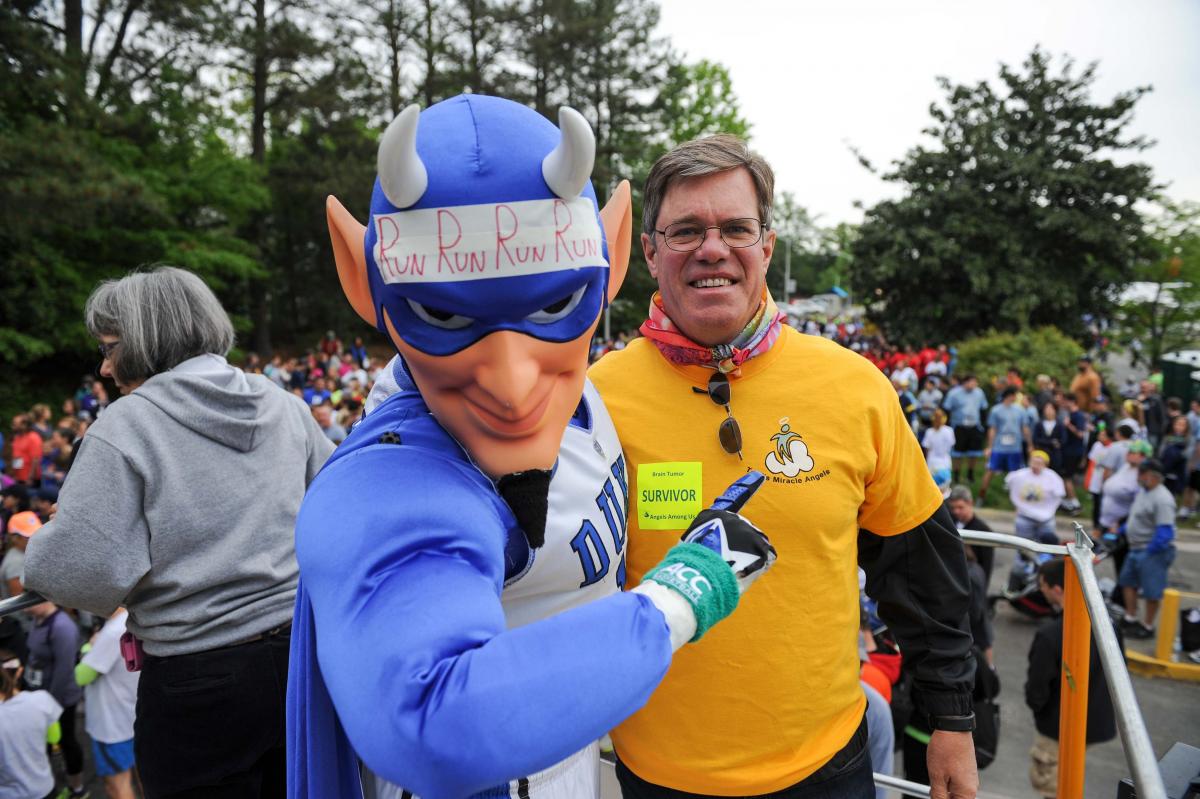 The doctor told him and his wife to sit down. "I'll never forget the words," Robinson said. "He said, 'Mr. Robison you might live a year, but most likely you have six months to live.'"
Robison said he was informed that the radiation and chemotherapy might give him a few extra months of life, but was not a cure.  So, as he tells it, his wife searched online for the best place in the world to go if you have a brain tumor. She found The Preston Robert Tisch Brain Tumor Center at Duke.
Soon Robison and his wife were consulting with Duke neuro-oncologists Henry Friedman, MD, and Allan Friedman, MD, on the best course of action. Dr. Friedman said he could remove the tumor. Robison described the encounter.
"I had just gotten the 65 staples out of my head from the last surgery in Des Moines," said Robison. "I looked Allan in the eyes and asked 'is it risky, what are my odds?' He smiled and said 'I'm not giving you odds and yes it's risky.' Then with confidence he again said 'I can remove your tumor.'"
Robison went ahead with the surgery.
"By the hands of Allan Friedman and by the grace of God my tumor was removed," said Robison.  "It's been 8 years! I'm alive! I'm doing great!"
Robison said he still gets follow-up MRIs every three to six months. He sees Katy Peters, MD, for that.
"I love to hear her say those magic words after each MRI: 'No growth'" said Robison. "We learned there truly is a huge difference in treatment from one hospital to another. If you break a leg, go to your local hospital. If you have brain cancer, get to Duke!"
Robison and his wife Toni asked how they could help raise awareness about brain cancer and contribute toward finding a cure for the disease. They learned about the Angels Among Us organization (www.angelsamongus.org) that fundraises for The Preston Robert Tisch Brain Tumor Center and formed their own Angels team called "Toni's Miracle Angels." They mail letters to their friends, family and co-workers and ask them to donate to their team. Over the past seven years they have raised more than $500,000. That money goes directly to research being carried out at The Preston Robert Tisch Brain Tumor Center.
"Toni and I have made a commitment to support The Preston Robert Tisch Brain Tumor Center at Duke all the way until we can all yell 'It's cured!'" said Robison.