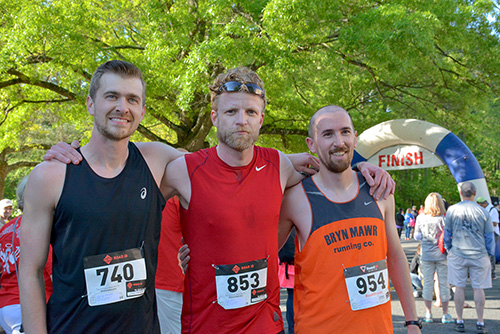 More than 4,000 participants attended the 26th Annual Angels Among Us 5K on Saturday, April 28th. Together, they raised a record $2.3 million to support the brain tumor program at Duke. 
"We are very grateful for the support we experienced this year," said Ellen Stainback, director of external relations with The Preston Robert Tisch Brain Tumor Center and the event's organizer. "Last week we received a $200,000 donation from an anoymous donor, truly an angel among us."
First place went to Gavin Finlay with a time of 16:53. Zachary Vaslow came in second with a time of 17:17; and Jonathan Stallings came in third with a 17:44 finish. Team Raines was the top fundraising team, having raised more than $220,000.
Patients, caregivers, loved ones, supporters and faculty and staff came out under sunny skies to celebrate hope and raise funds. Ned Butler, his wife, Irene, and son, Alex, attended with their team Alex's Army. Alex, 17, is currently in remission after battling brain cancer.
"It's a great day for Angels," said Ned, who shared he would be taking Alex for proton therapy the following Monday. "It's a great cause. We're glad we could be here."
The event include food vendors, bouncy houses, games, silent auction and more. To the cheers of spectators, neuro-oncologist Annick Desjardins, MD, director of clinical research for the Preston Robert Tisch Brain Tumor Center at Duke, led faculty, staff and volunteers in a surprise flash mob. Entertainment also included dancers from Nina's School of Dance who performed. For more information and the latest numbers, visit Angels Among Us.
Spectrum News coverage: Angels Among Us
Duke Health News (Employee Intranet): DUH employees shake and twirl in flash mob dance for patients