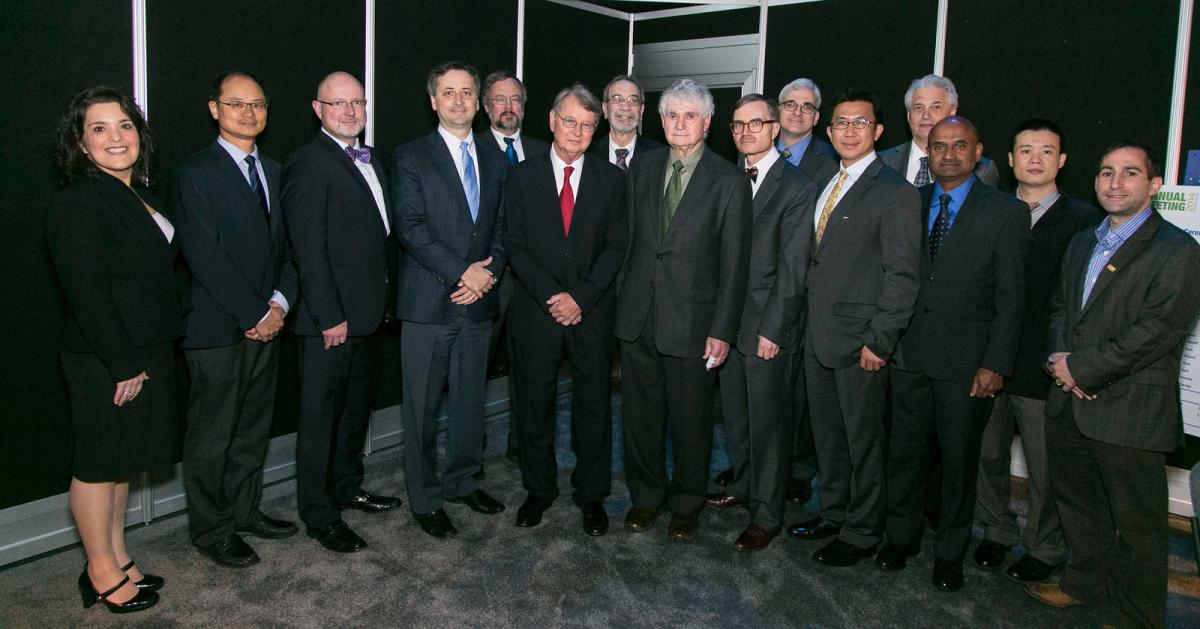 The American Association for Cancer Research (AACR) awarded the Eighth Annual AACR Team Science Award to the Duke University/Johns Hopkins University/National Cancer Institute (NCI) Malignant Brain Tumor Team at the AACR Annual Meeting 2014, held in San Diego, Calif., April 5-9. 
The AACR Team Science Award recognizes an outstanding interdisciplinary research team for its innovative and meritorious scientific work that has advanced or will likely advance cancer research, detection, diagnosis, prevention or treatment. 
This multi-institutional team, led by Darell Bigner, MD, PhD, director of The Preston Robert Tisch Brain Tumor Center, included 26 faculty members from Duke, Johns Hopkins, and the NCI. The team was selected because of the immense impact their research has had on our understanding of the biology of glioblastoma multiforme (GBM), the most common and lethal type of brain cancer. Fewer than four percent of patients survive to five years following diagnosis. 
Honorees are (in alphabetical order): 
Daniel Barboriak, MD, Professor, Department of Radiology, Division of Neuroradiology, Duke University Medical Center, Durham, N.C.; 
Oren Josh Becher, MD, Assistant Professor, Departments of Pediatrics and Pathology, Duke University Medical Center; 
Darell Doty Bigner, MD, PhD, Edwin L. Jones, Jr. and Lucille Finch Jones Professor of Cancer Research; Director, Preston Robert Tisch Brain Tumor Center and the Pediatric Brain Tumor Foundation Institute, Duke University Medical Center; 
Thomas John Cummings, MD, Professor, Department of Pathology, Division of Pathology Clinical Services, Duke University Medical Center; 
Annick Desjardins, MD, FRCPC, Associate Professor, Department of Neurology, Duke University Medical Center; 
Luis A. Diaz, MD, Associate Professor of Oncology, Sidney Kimmel Comprehensive Cancer Center (SKCCC) at Johns Hopkins University School of Medicine; Director of Translational Medicine, Ludwig Center for Cancer Genetics and Therapeutics, SKCCC, Baltimore, Md.; 
Allan Howard Friedman, MD, Neurosurgeon-in-chief, Duke University Hospital; Guy L. Odom Professor of Neuro-surgery; Chief, Division of Neurosurgery/Department of Surgery; Duke University Medical Center; Deputy Director, Preston Robert Tisch Brain Tumor Center at Duke; 
Henry Seth Friedman, MD, James B. Powell, Jr. Professor of Neuro-Oncology; Professor of Pediatrics; Associate Professor of Surgery and Medicine; Assistant Professor of Pathology, Duke University Medical Center; Deputy Director, Preston Robert Tisch Brain Tumor Center at Duke; 
Matthias Gromeier, MD, Professor, Department of Surgery, Division of Neurosurgery; Department of Molecular Genetics and Microbiology; Department of Medicine, Infectious Disease, Duke University Medical Center; 
Sridharan Gururangan, MBBS, MRCP, Professor, Department of Pediatrics; Associate Professor of Surgery, Duke University Medical Center; 
Yiping He, PhD, Assistant Professor, Department of Pathology, Duke University Medical Center; 
Kenneth W. Kinzler, PhD, Professor of Oncology, SKCCC at Johns Hopkins University School of Medicine; Director, Ludwig Center for Cancer Genetics and Therapeutics at SKCCC; 
Chien-Tsun Kuan, PhD, Associate Professor, Department of Pathology, Duke University Medical Center; 
Roger Edwin McLendon, MD, Professor, Department of Pathology; Director, Surgical Pathology; Chief, Section of Neuropathology, Duke University Medical Center; 
Nickolas Papadopoulos, PhD, Professor of Oncology, SKCCC at Johns Hopkins University School of Medicine; Director, Translational Genetics, Ludwig Center for Cancer Genetics and Therapeutics at SKCCC; 
Ira Harry Pastan, MD, Co-chief, Laboratory of Molecular Biology, Center for Cancer Research, National Cancer Institute, National Institutes of Health, Bethesda, Md.; 
Katherine Barnett Peters, MD, PhD, Assistant Professor, Departments of Medicine and Surgery; Director, Neuro-oncology Fellowship Program, Duke University Medical Center; 
Tulika Ranjan, MD, Assistant Professor, Departments of Medicine and Surgery, Duke University Medical Center;  
B.K. Ahmed Rasheed, PhD, Assistant Professor, Department of Pathology, Duke University Medical Center; 
John Howard Sampson, MD, PhD, MHSc, MBA, Dr. Robert H. and Gloria Wilkins Professor of Neurosurgery; Professor, Departments of Pathology, Immunology, and Radiation Oncology, Duke University Medical Center; 
Victor E. Velculescu, MD, PhD, Professor of Oncology; Co-director of Cancer Biology Program, SKCCC at Johns Hopkins University School of Medicine; Director, Cancer Genetics, Ludwig Center for Cancer Genetics and Therapeutics, SKCCC; 
Gordana Vlahovic, MD, MHS, Associate Professor, Department of Medicine; Assistant Professor, Department of Surgery, Duke University Medical Center; 
Bert Vogelstein, MD, Clayton Professor of Oncology and Pathology; Joint Appointment in Molecular Biology and Genetics, SKCCC at Johns Hopkins University School of Medicine; and investigator, Howard Hughes Medical Institute; 
Jason A. Watts, MD, Instructor of Medicine, Department of Medicine, Duke University Medical Center; 
Hai Yan, MD, PhD, Henry S. Friedman Professor of Neuro-Oncology; Professor, Department of Pathology, Duke University Medical Center; and 
Michael Rod Zalutsky, PhD, Jonathan Spicehandler MD Professor of Neuro-Oncology Research; Professor, Departments of Radiology, Biomedical Engineering, and Radiation Oncology, Duke University Medical Center