Our team at The Preston Robert Tisch Brain Tumor Center understands the need to cross new thresholds when it comes to discovering the cure for brain cancer. Perhaps our most advanced methods of scientific exploration come in the form of clinical trials. While patients who enroll in clinical trials may feel like they are navigating uncharted territories, they are giving scientists an opportunity to unravel maps that can lead to new discoveries, future treatment options, and maybe even a cure.
What Are Clinical Trials?
A clinical trial is a research study involving human participants that aims to understand the effects of a certain drug, device, or treatment. Almost all treatment methods currently available are the product of clinical trials. Patients can enroll in clinical trials only after preclinical studies have been conducted. All clinical trials have a principal investigator (usually a medical doctor) who is in charge of the research staff. The principal investigator also makes sure that the protocol—or the set of rules the clinical trial is based on, such as the length of the trial, eligibility, etc.—is being followed. Through meticulous predesign, clinical trials are set up in a way to answer questions regarding safety, side effects, and benefits of the treatment, as well as whether some people will benefit more than others. There are usually four phases of a clinical trial.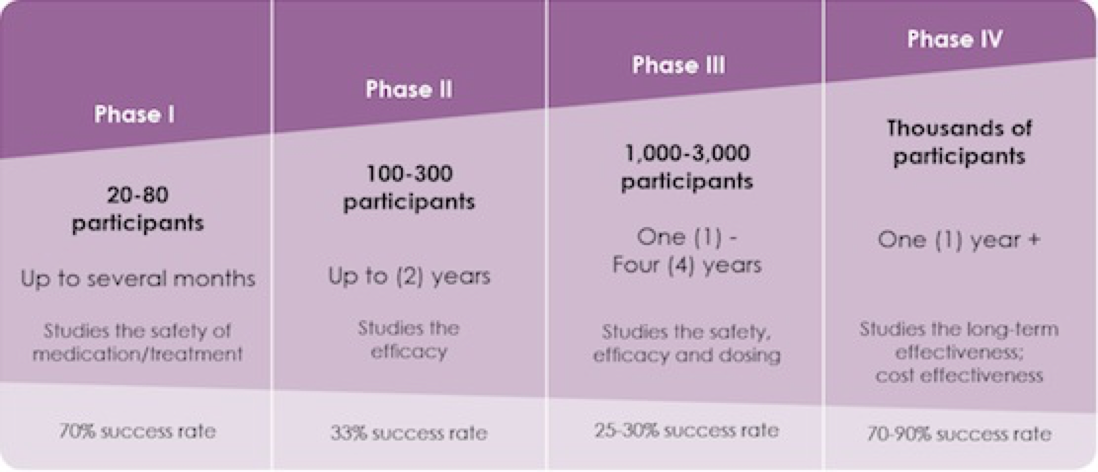 What We Offer
In the past, clinical trials were often perceived as a last resort for brain tumor patients. But here at Duke, we have proven time and again that experimental therapy is often the best option for many of our patients, and could be much more effective than the standard of care treatment. We offer interventional studies for the newly diagnosed and recurrent patients, as well as supportive care studies that explore how to increase the comfort and quality of life for individuals with brain cancer. Below is a list of clinical trials being offered at the Center. Your team at Duke will discuss the best options for you or your loved one.
Clinical Trials